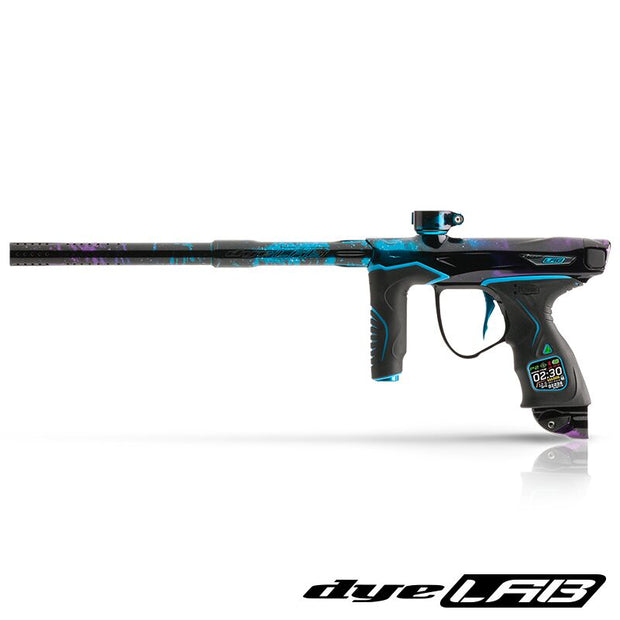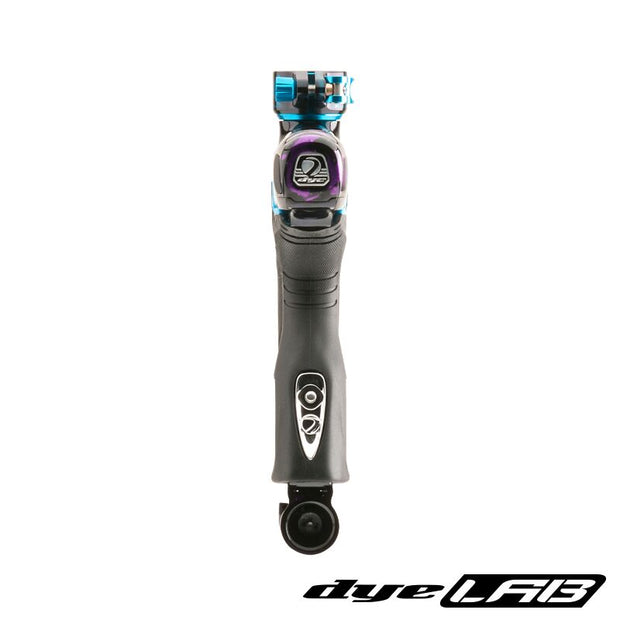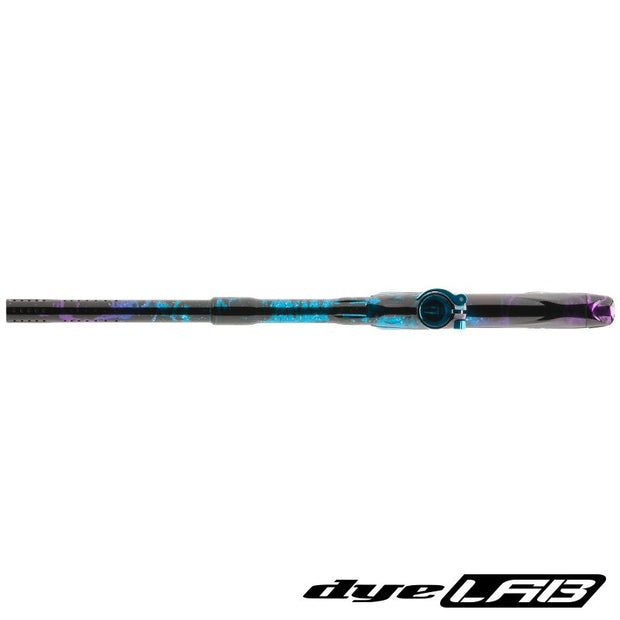 DYE M3s - Infinity - DYE LAB 1 of 10 LIMITED EDITION
Regular price
$1,795.00
---
Introducing the second installment of products from the DYE LAB, 
a 1 of 10 DYE M3s Infinity marker
 with a bold new look that is aggressive, yet stylish. 
Extremely limited of only 10 markers available worldwide and only available from DYE LAB.
Stacked in your favor with all of the advanced performance features discovered in the all-new DYE M3s, this limited edition marker is striking from every angle with a unique and completely custom anodized design that includes a glossy black undertone paired with hues of purple and cyan topped off with subtle hints of white from end to end. The anodized pattern travels from the Fuse Legacy 21 Quick Release Bolt covering the low-profile body. Lockdwn2 clamping feed neck. UL 45 frame, Mag-reach trigger, Shiftport ASA, and down the matching newly updated UL barrel back and tip with custom engraving.
The M3s is Performance Advanced. DYE's M3s with MOSair is the pinnacle of performance and luxury. Based on the legendary DM series platform, the M3s has been meticulously deconstructed down to an elegant machine with uncompromised performance.
The all new FL-21 Bolt sets a new standard for dependability and performance. Designed to operate across the widest range of extreme conditions, the FL-21 bolt provides unmatched performance, without sacrificing reliability. Unique to the M3s,  dwell independence, and breech pressure insensitivity offer the user unequalled consistency, and the ability to shoot extremely fragile paint.  The FL-21 Bolt also delivers superior air efficiency, and shot quality with its ultra-low operating pressure.
The Hyper 6s Pro with coil spring, improved air dynamics, and simplified serviceability, breathes life into the M3s and FL-21 bolt. The 3rd gen Eye Pipe system, quick release bolt, and free wire connectors make service fast and effortless.
The MOSair OS system provides intuitive navigation and control over precision tuning and vital real time feedback. Features like an internal pressure sensor, multiple player profiles, high contrast play screens, power control options,  as well as Cable Free Charging, and wireless Air Sync are just a few examples of DYE's commitment to innovation and the ultimate player experience.
True to DYE's design theory, the M3s's ergonomic design is unparalleled. The UL frame hourglass design, full wrap dual density Sticky Grips, Mag Reach Trigger, and ShiftPort ASA,  gives the player absolute comfort and control.
The sharp cosmetic lines that flow uninterrupted across the M3s's lean body, and the nearly endless performance features make DYE's superior craftsmanship unmistakable. With extraordinary performance and comfort, the M3s is the definition of luxury performance in paintball.
Luxury design and ergonomic construction
No exposed screws or plates

All aluminum construction

low profile design

UL frame with full wrap sticky grips

Dual density, micro texture grips

Best ergonomics in industry

Simple joystick  OS operation and navigation

2 tool assembly

Hard form gun case with EVA foam lining for secure protection
FEATURE QUICK VIEW
FL-21 Bolt
Quick Release Bolt
MOSair Operating System
Prism Interface
Internal Pressure Sensor
Rechargeable Battery
e.VOKE Compatible 
Freewire Connectors
Eye Pipe
UL 45 Frame
Gas-Thru
Mag-Reach Trigger
Sticky Grips
Hyper 6s Pro
Lockdwn2 Clamping Feed Neck
Colored O-Rings
Low Profile Design
Dye UL Barrel with NEW UL-S 8" Tip Porting
FEATURE DETAILS
FL-21 bolt
Dwell independent

High efficiency

Smooth

Quiet

Ultra-low operating PSI (about 115psi)

Air supply cut off in Solenoid

Minimized chamber expansion

Handles extremely fragile paint

Operates in extreme conditions

The New Fuse Legacy bolt sets a new standard for dependability and performance. Designed to operate across the widest range of extreme conditions, the FL-21 bolt provides unmatched performance, without sacrificing robust durability. The re-imagined bolt and valve operation delivers a liner force bias ratio, dwell independence, and breech pressure insensitivity. These precision design elements give the user unequaled consistency.  The FL-21 bolt also delivers superior air efficiency, and shot quality. The low operating pressure and refined bolt cycle renders a smooth ultra-quite shot, and the ability to shoot extremely fragile paint. Redesigned with simplicity in mind, the traditional LPR has been replaced, with optimized flow control and uniformed force bias, boosting reliability and performance, and simplifying service. The new FL-21 bolt combined with the proven M series platform is the next level of advanced performance.
Quick release bolt
The all-new Quick Release Bolt Assembly is a robust steel gate system that securely hold the bolt in place.  A simple push button system allows the user to remove and re-install the bolt kit in seconds. Standard maintenance has never been easier or more accessible.
MOS air operating system
5 player profiles

3 Training modes

7 play screen options

3 custom boot screen storage

Double tap power off option

Service alert system

Extended battery life

Cable free charging

DYE's 

Method Operating System Air 

allows you to customize nearly every aspect of the M3s for the ultimate playing experience.  The operator gains unrestricted access to precision tuning, and unsurpassed performance. The 5-way Joystick, high definition OLED display screen, and multiple profiles provide an intuitive user interface.  The optimized MOS program logic ensures lightning fast response time, and long battery life. The Freewire connector pins ensure communication between performance driving hardware and the MCU, as well as Eliminate awkward wire routing.  With customizable features, like power control options, custom boot screens, multiple play screens, shot tracker, Cable Free Charging and wireless Air Sync; DYE's MOSair  is advanced performance in the palm of your hand.
Prism interface
5-axis joystick control

High resolution OLED display screen

Full color OLED display screen

The massive 1" full color, high resolution OLED screen on the M2 makes getting feedback from you marker lightning fast. The screen, Combined with the 5-axis Joystick control provides intuitive navigation through, systems checks, settings adjustment, and performance data.
Internal Pressure Sensor
The M3s is equipped with an internal pressure sensor that monitors
The operating pressure in the marker. Extremely accurate digital pressure transducer helps you keep the M3s within the optimal pressure ranges. No more packing around heavy testers with bulky dial gauges. DYE's Prism Interface will confirm your pressures in seconds.
Rechargeable battery
Charge up and play. No more last minute runs to the store, or begging friends for a 9-volt. All you need now is a power source, and a standard micro USB cable to have the power to play.  
CFC (Cable Free Charging)
Wireless charging: set up you charging pad and never plug in again.  Your M3s can now be charged on any Near Field Charging base, and the DYE charging pad works with all standard NFC systems. Is your smartphone as advanced as the M3s?  It's time to Charge, and play.
Evoke Compatible
I5 goggle hands free alert system

A revolutionary step for the sport of paintball, the M3s MOS Air is wireless. With the simple plug and go Evoke Box, your gun is ready to send your I5 Evoke vital game time information via DYE's air Sync wireless connection.  Customizable automated audio alerts like time tracking and shot count, keep you ahead of the competition.
Freewire connectors
No wire between frame and body

quick disconnect, contact pads

Eliminate awkward wire routing

Dramatically improve serviceability
Eye pipe – breech system
3

rd

 generation

Self cleaning

Protection from damaging breech ware

Integrated leaf spring detents

Eliminates bulky eye plates and small easily stripped mounting screws

DYE's 3

rd

 generation EYE-PIPE breech system shields the anti-chop eye system from dirt and broken paint. The thick durable Polycarbonate pipe is wiped clean by the bolt tip O-ring on every cycle creating a self-cleaning system that ensures the eyes are always monitoring the breech.  DYE's Patented EYE Pipe systems protects your Marker from harsh environments eliminating permanent performance hindering breech wear. Leaf spring ball detents are integrated into the EYE PIPE preventing double feeds and chopped paint, and eliminating bulky exterior eye plates.
UL 45 frame
Hour glass shape

Ergonomic designed specifically around the dual finger trigger

superior comfort

superior grip and control

The UL 45 frame is the culmination of top pro player influence and progressive engineering. Designed specifically for modern double finger triggers, the UL frame's Hour-Glass shape was ergonomically designed to give the player ultimate control, comfort, and performance. The UL frame combined with DYE's famous Sticky grips offers a secure grip for stability and accuracy, while at the same time encourages a sustainable, rapid trigger speed. The Mag Reach trigger offers optimal tuning for unbeatable speed, reaction time and trigger control.
Gas-thru
The macro line has been removed to improve ergonomics and performance. Switching hands in tight situations has never been quicker or easier.
Mag-Reach Trigger
Full external adjustment
Adjustable trigger rake

Dual roller bearings

Full adjust trigger

Pre and post travel adjustment

Magnetic return force

The Mag-Reach Trigger system now incorporates the super smooth benefits of magnetic trigger return. It is the next evolution in individually customized ergonomic comfort, as well as optimal trigger speed. The adjustable trigger angle, Travel, and magnetic return force allow you to create a personalized fit.  All adjustments on the Mag-Reach Trigger are accessed externally, so you can reach your ultimate shooting capabilities.
Sticky grips
Best ergonomics in PB

Miro texture

superior comfort

superior grip and control

Tool-less design

Full wrap grip

Dual density material

The tool-less full, wraparound Sticky Grip™ with micro texture provides ultimate grip.  Dual density design offers comfort and control. The tool-less design utilizes a durable locking system that ensures a rock solid  grip, and at the same time quick access for service.
Hyper 6s Pro
Proven reliable design

Air pressure bleed off

faster response time

simplified cartridge assembly

Coil spring for easy service

Fastest service

The Hyper 6s Pro: now with a more efficient airflow path , and consistent piston movement. The latest generation of DYE's trusted line of regulators, is the most reliable and consistent regulator DYE has produced to date. Updated with a single coil spring and simplified cartridge assembly delivers exceptionally easy service. Integrated into the Hyper 6s Pro is a pressure bleed off to ensure no gas is trapped in the marker when degassed. Improvements focused on performance, reliability, and safety to ensure the best playing experience possible.
Lockdwn2 clamping feed neck
Durable robust design

Cam lever clamp

Wide range of adjustment

The adjustable cam lock lever allows you to securely lock you R-2™ Loader onto your gun without tools. DYE's Lockdwn2 feed neck sits low and tight on the marker making sure your gear stays compact and low profile.
Colored o-rings
Color coded o-rings make it easy to quickly identify the correct replacement o-ring when performing maintenance on your marker.
ShiftPort ASA
Balanced cam drive on/off airport

20% Larger components for long lasting reliability

Single o-ring design

Reinforced internal components deliver long lasting dependable operation. The ShiftPort has 25% higher air flow, and effortless on/off lever action. The Floating ASA can be shifted forward or backward to give you the best fit for any tank, and any playing style.
Low Profile design
The M3s has one of the lowest profiles in today's market. It's streamlined for the most competitive profile possible. With this compact profile comes dramatic weight savings as well.  The M3s weighs in at less than 

1lb – 10oz.
DYE UL barrel
Unbeatable accuracy

14 inch

2pc construction

Precision honing

NEW UL-S 8" tip porting

The DYE UL 14 inch 2pc barrel comes with DYE's new UL-s vent hole pattern for an ultra-quiet shot.  The UL control back with Multi-phase precision honing that is the most accurate and consistent finish available in paintball, which eliminates ball spin and improves accuracy.  Self -aligning two piece construction ensures properly centered assembly between control bore and steady port tip. This combination of precision components provides an extremely quiet shot, superior accuracy, and total performance. DYE Barrels set the standard for accuracy and quality nearly 20 years ago and continue to do so today.